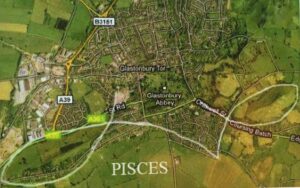 Pisces
51 08′ 26 79N  2 43'30 97W
Two fish swimming in opposite directions appear
at Wearyall Hill and Glastonbury Tor.
House of Ephraim and Manasseh
From Pisces to Aries
The Fisher King
To the golden fleece
First find The Holy tree
A crown of thorns planted
A wish granted
On the crest of the hill
Weary all we be
We are all here
As the eyes of the sea
For we are the place
of the fishes three!
Cetus the whale
Is tied to our tails
The totem of the Levites
The Leviathan be
From Pisces to Aries
Count thirty degrees
2160 years
For each of these
The Fish on the ear
Of the Ram denotes
Pisces Austrinus
The Southern Fish
The end of an age
Another spoke in the wheel
The Lamb lay down
The Fishes swam on
So onward around this zodiac found
The circle of eternity
Heaven in the ground..