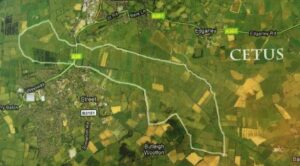 Cetus the Whale, or Leviathan, Totem of the Levites. There is a massive Whale Jaw bone in the grounds of Glastonbury Abbey.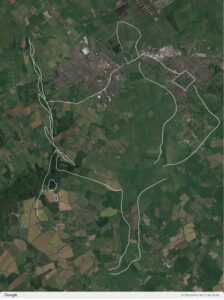 Turning this image slightly
The first image is a copy of Katharine Maltwood's Cetus, the Whale or Leviathan.
The second image is my own observation from space, expanding the shape outwards reveals a Man on a Donkey, with a smaller image of a Man dancing and playing a harp.
At the foot of the effigy is a Man in a triangular cap kissing the feet of the Lord.